Mt Eden Hockey Club 1912-2011
(Compiled by Alison Davidson for AHA's 75th Jubilee and updated in 2011)
The Club was founded in 1912 by the late Mrs W Fuller (nee Prothero) at a meeting in Cromwell Rd, Mt Eden - adopting the colours brown and purple. The doyen of Auckland Ladies Hockey, Miss Pearl Dawson, joined the club in 1915, becoming captain and coach in 1917, a position she held for many years, later becoming President.
With only one team for some years, the Club grew to three Ladies teams by the time of AHA's 75th Jubilee in 2003. Distinguished Mt Eden players from the past era are Bee Fuller (nee Prothero), Iris Hamlin, Mavis Hamlin (nee Butland), Girlie Low, Mavis White , Lil Askew, Judy Doull, Marie Donnelly and Margaret Chappell.
The last 20 years have seen the Club experience growth that has exceeded the other inner city Clubs. In 1992, the remnants of Teachers Men's Club were used to create the first "modern era" Mt Eden Mens team, and the Club has now worked their way through the men's grades to Premier Two level, with some success. We are still one of the biggest women's Clubs, and the colours have now been changed to black and purple.
In 1991, past players pulled in their children, and started the Junior Club, which has also expanded from 2 teams, to 18 teams, and we now have players representing Auckland in every age group team including NZ age group representatives. A Premier title has eluded the Club since 1975, but in the 1999 season, the Club had the distinction of earning the "Top Club" for accumulated points in both the Mens and Womens grades.
Betty Griffin - Club Patron
Mt Eden's history would not be complete without mention of our Patron, Betty Griffin. Betty played for Mt Eden back in the 1940's and was a neighbour of Mt Eden stalwart Pearl Dawson. Betty's two daughters played for Mt Eden in the 1970's and 80's and over the last 20 years Betty has had 12 of her grandchildren playing through the primary/youth and senior grades for Mt Eden. Betty regularly attended nearly every hockey venue in Auckland on some Saturday mornings and afternoons, and has given our Club a shining example of the values of family and Club loyalty.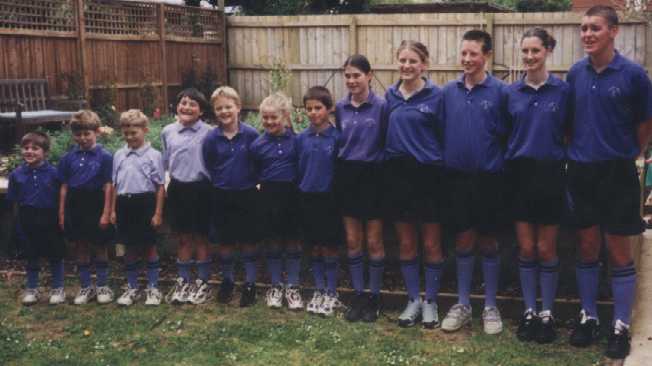 Betty Griffin's grandchildren: Max Griffin, Sean Griffin, Dominic Clark, Thomas Griffin, Alister Kreft, Jennifer Griffin, Sam Griffin, Hannah Griffin, Frances Kreft, Jordan Clark, Olivia Clark and Warren Kreft.